RACHEL MINDRUP
About
Many Faces of Neurofibromatosis (NF1) Portraits
Many Faces of Neurofibromatosis (NF2) Portraits
NF: Nebraska
NF ~ In Memoriam
Ashok Shrestha's NF Transformation
The Art of Medicine
Oil Paintings
Drawings
All of these works deal with the genetic disorder Neurofibromatosis (NF). Neurofibromatosis encompasses a set of distinct genetic disorders that causes tumors to grow along various types of nerves. NF can also affect the development of non-nervous tissues such as bones and skin. Neurofibromatosis causes tumors to grow anywhere on or in the body. Please visit my Facebook page to see the entire online project.
Many Faces of NF
Promote Your Page Too
---
---
Oil Portraits NF1 (United States)
These documentary styled paintings are all done with the assistance of those portrayed coordinating their own photo shoots and celebrating their vocations or hobbies. Together we work on how the portrait should be handled. Each participant writes his or her own biography and ends it with a positive note for all of us to ponder and live by! Please view the entire collection at: http://www.facebook.com/ManyFacesNF
---
---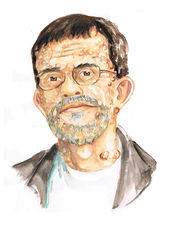 Watercolor Portraits of NF
Each of these watercolor portraits depict a person with NF. Each of these people have either fundraised or donated to an NF Charity. I have done over 150 watercolors, but am only uploading a small sampling. To see all of the watercolors, please visit my FB page "Many Faces of NF"